Pearl Jam frontman and alt-rock legend Eddie Vedder is amidst his epic, 12-date European Solo Tour. This weekend he will perform at Firenze Rocks Music Festival alongside Tool, The Cure, and other iconic artists.
His mini tour kicked off on June 9th in Amsterdam with a 29-song setlist that was filled to the brim with Pearl Jam songs, covers, and a very special guest appearance by the Red Limo String Quartet who accompanied Vedder on three songs during the first set, and three during the second set.
During the second set, the string quartet did an instrumental version of Pearl Jam's "Alive." They weren't the only guests to join the prolific musician on stage during the show - he was also join by Glen Hansard and Jake Clemons. Hansard will be the tour's support in Lisbon, Madrid, Barcelona, Dusseldorf and Dublin. During the encore of Neil Young's "Rockin' in the Free World," all three special guests joined on stage to help breathe new life into the iconic track.
"Rockin in the Free World" Live
Check out the opening night setlist here:
Eddie Vedder
Vedder played in Amsterdam for a second night (June 10) with an entirely new setlist that featured more covers and Pearl Jam licks.
Covers he did that night included:
"Don't Be Shy" - Cat Stevens

"You've Got to Hide Your Love Away" - The Beatles

"Picture in a Frame" - Tom Waits

"I Won't Back Down" - Tom Petty

"Rockin' in the Free World" - Neil Young
He added two more songs to the setlist, rounding out to 31-songs total that night. The same special guests joined him on stage, and the string quartet treated fans to an instrumental of Metallica's "Enter Sandman" WITH ukelele.
"Enter Sandman" cover String quartet
Check out that setlist right here: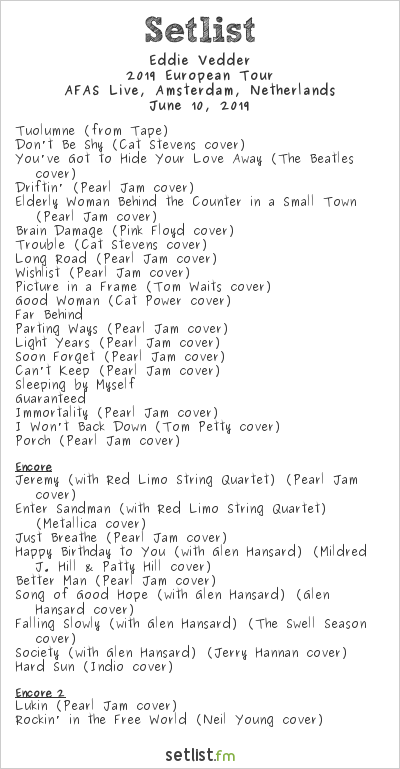 Eddie Vedder
During his stop in Belgium on June 12, Vedder performed Bob Dylan's "Girl From the North Country" for the first time since 2014 and swapped out several more songs. Wi
th such a massive catalog, it's really a brilliant way to approach a tour at this caliber. Even with almost 30 songs per-night, the rock god can hardly fit it all in!
The only consistent aspect of the tour is his Neil Young cover during the encore. In way of solo cuts, he only does a small handful a night, pulling mostly from his
Into the Wild
soundtrack and then some from
Ukulele Songs.
Eddie Vedder 2019 Tour Dates:
06/15 – Florence, IT @ Firenze Rocks Festival
06/17 – Barolo, IT @ Collisioni Festival
06/20 – Lisbon, PT @ Altice Arena *
06/22 – Madrid, ES @ WiZink Center *
06/25 – Barcelona, ES @ Palau St. Jordi *
06/28 – Berlin, DE @ Max-Schmeling-Halle
06/30 – Dusseldorf, DE @ Mitsubishi Electric Halle *
07/03 – Dublin, IE @ 3 Arena *
07/06 – London, UK @ Wembley Stadium ^
09/28 – Dana Point, CA @ Ohana Festival
* = w/ Glen Hansard
^ = w/ The Who